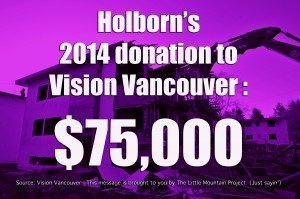 The 2014 election data is out. Holborn gave $75,000 to Vision and $2,500 to NPA, so they're betting that Vision will win this race.
What will the contribution buy them? Peace of mind? A sense that they contributed to the democratic process? After all they did fund two parties. Or do they share like many of us, a concern that a vote for the NPA might strengthen Kinder Morgan's fight to ram a new pipeline through our city. Many big issues at stake in this election.
But most importantly for me and the community that I live in, what will this mean for Little Mountain? Especially since there's been some talk that Holborn might renege on its committment to build community amenities as part of the redevelopment plan for Little Mountain.
For more info on $$$ look at: City Hall Watch
For more info on candidates look at: NSV Neighbourhoods for a Sustainable Vancouver.
Get out and vote!!!
David Vaisbord