It's bigger than you think.
NOTE: This project has NO AFFILIATION WHATSOEVER with the three most powerful actors in this public play — City of Vancouver Planning Department or The Holborn Group, the developer of the property, or the Government of British Columbia/BC Housing. Please be aware that the blog that calls itself The Little Mountain Project Newsletter, is the publicity of
The Holborn Group.

The Holborn Group is currently managing a very strong publicity campaign on the internet, to generate support for their very high density housing plan at Little Mountain. Check it out HERE.
Begun in 2008, and in continuous evolution and production since that time, The Little Mountain Project is a multi-platform hyperlocal documentary, conceived by veteran independent documentary filmmaker and Little Mountain Community member, David Vaisbord. The Little Mountain Project is a multi-layer, multi-year experiment in documentary filmmaking that will observe and record in detail the entire process of demolition, planning, and construction of the last major redevelopment project in the city of Vancouver. The subject of the redevelopment of social and affordable housing in Vancouver is of critical interest to almost everyone in this city. This project will untangle the web of influences which shape this city's policies and processes around these housing issues, as well as the subjects of community, density, and livability. The end results of the process – over many years – will include: a feature length documentary film, web projects (you're reading one), a site specific art/sign project, and art and museum gallery installations (Winsor Gallery July 2012). To name a few.
Over 250 hours of footage have been recorded to this date.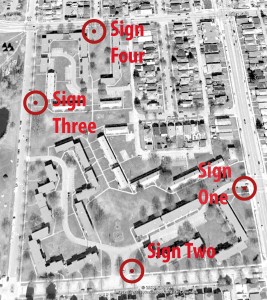 Look for more complete information about The Little Mountain Project on this website, and the purpose of this particular website, click on "What is LM Project."
David Vaisbord
June 2012