Tonight (May 5, 2012) I'm at the Emily Carr University of Art and Design, celebrating the completion of my Masters Degree.
The Opening Night of the Graduate Show starts at 5pm and ends at 10pm.
The Duration of the Grad show is from May 6 to May 21, 2012.
Open daily from 10am to 6pm.
Update: David Vaisbord wins FARRIS AWARD for Art & Social Media at Emily Carr University, for the Little Mountain Project.

The large installation includes two video screens with headphones, and an illustration of the interface of the upcoming Little Mountain Project Social History Website. The Charles H. Scott Gallery houses graduates of the Masters of Applied Arts.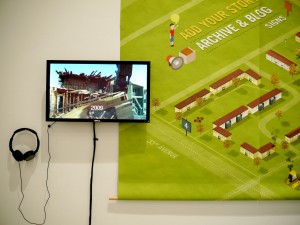 See you there.
David