David Vaisbord produced an installation for the 2015 UBC SCARP Conference HOUSING for ALL: A series of Events on the future of public housing.
The pieces are part of a larger installation to be produced after the release of the feature documentary in 2018.
Link: http://www.futureofpublichousing.scarp.ubc.ca/2015/05/16/housing-for-all-a-series-of-events-on-the-future-of-public-housing/
For more photographs visit to my blog from May 2015: http://littlemountainproject.com/week-mountain-project-pictures/
A complete multi-media installation on the Champions of Little Mountain is yet to be exhibited.
______________
Little Mountain Project receives 2012 Farris Award for Art & Social Media.
The multimedia project is installed at the Charles H. Scott and Winsor Galleries in May and July 2012.

Please link to the Diane Farris Gallery to the view the website page that pertains to the 2012 Farris Award.
The Farris Award was linked to the Emily Carr University Graduate Exhibition, from May 6 to May 21, 2012. I presented an installation consisting of two video screens and a large scale illustration of an iteration of "Little Mountain Stories," a proposal for an interactive web project currently in development.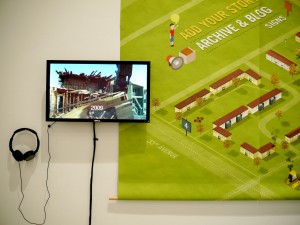 #2 – 258 East 1st Avenue
Vancouver, B.C.
V5T 1A6
If you missed the installation at ECU, you will be able to view it from July 7 to July 22, 2012 at the Windsor Gallery, in their annual ECU Graduate Award Winners Show.
Follow The Little Mountain Project on FACEBOOK:
https://www.facebook.com/david.vaisbord
https://www.facebook.com/LittleMountainFilm
Follow The Little Mountain Project on TWITTER:
https://twitter.com/davidvaisbord
David Vaisbord