David Vaisbord's film career has included documentaries such as Mischa 1996 (Canada Council/NFB/CBC), Juicy Danger Meets Burning Man 1998 (CTV/TVO/BRAVO!), Britannia Beach 2002 (CTV,TVO, CBC) Drawing Out the Demons: A Film About the Artist, Attila Richard Lukacs 2004 (BRAVO!/TVO), Dark Pines: An Investigation into the Death of Tom Thomson 2006 (BRAVO!) and work in series TV. In between large projects, he produces videos for unions and non-profit organizations. Vaisbord maintains academic connections with UBC's SCARP's School of Community and Regional Planning.
In 2008 Vaisbord launched the Little Mountain Project which won the 2012 Farris Award for Art and Social Media. His Masters thesis on social media and activism was published in POV Magazine the same year. This web project has evolved into the feature documentary Champions of Little Mountain.
Vaisbord sits on a number of national boards concerned with the future of documentary filmmaking in Canada, including the Documentary Organization of Canada and the HOT DOCS.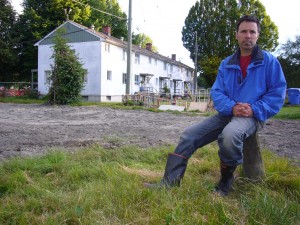 I am a filmmaker and activist, with finely honed digital media skills, years of award-winning documentary film work and academic teaching experience.  My passions lie in community engagement and participation, the arts, environment, urban planning and social justice.
I am available to take on new projects and challenges across ever expanding transmedia platforms.
Please contact me for if you are interested in talking about digital media, community engagement, and getting your message out. CV and references from clients available upon request.
_________________________
SEMINARS AND WORKSHOPS
I am also available to lead talks on The Six Block Documentary and the Hyperlocal Documentary, which describe the praxis informing The Little Mountain Project. I the past several years I have given this talk to students at Langara College, and the Richmond International Film and Media Arts Festival, and taken part in International conferences on the future of pulblic housing. as artist and speaker.
_________________________
MORE on my PREVIOUS FILMS
To accompany films I have produced in the past, I have produced bios which have suited the occasion. My oldest film bio accompanied the Canadian television premiere of Juicy Danger Meets Burning Man, a film I made about two Canadian performers who took a crazy road trip to the Burning Man Festival. It is at the Fearless Conversation site. This has background info on all of my documentary and docu-drama work up to 2006. The site has not been updated since.
A more up-to-date biography accompanies the 10th Anniversary celebration of the same film, at Juicy Danger Meets Burning Man. The film became something of a Canadian cult classic and launched Tom Comet and Christine Taylor to the stratosphere of Canuck fame (if not fortune). Today, Mr. Comet helms one of Canada's biggest pyrotechnics companies Circus Orange, and Ms. Taylor continues to write and perform sketch comedy.
You can watch clips from all of my films here:
David Vaisbord – Film directing demo reel. from David Vaisbord on Vimeo.
A couple of years ago, I created a new web page for my 2002 film Britannia Beach, which you can visit HERE. Britannia Beach examined the social, environmental and economic legacy of heavy industry on a small company town. Britannia Beach is located just North of Vancouver on the Sea to Sky Highway, on the way to the ski resort of Whistler. There's a short video clip on the website.
All for now,
David Vaisbord – BA/BFA/MAA
Director, Educator, Producer, Writer
The Little Mountain Project