From 2012 to 2014 The Little Mountain FILM Project gathered considerable press for two events.  It's 2018 and with the release of the final feature documentary project this year, I expect there to be considerable new press generated.
 The Final Attempted Evictions of the last tenants in 2012.  I hastily edited a number of short films drawn from raw footage (recorded from 2008 – 2012) and screened them across Vancouver to support the effort to defeat BC Housing.  We won.

The Crowdfunding Campaign I ran in 2014, in order to address the funding challenges of largely self-funding a major feature documentary film.

Vancouver Sun, November 29, 2015
Vancouver Little Mountain housing plans finally on display.
Vancouver Courier, June 26, 2014
Little Mountain doc takes on life of it's own.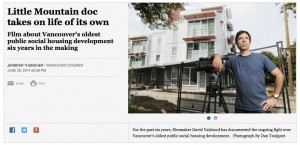 Global News, June 12, 2014
Little Mountain's past – and its uncertain future – subject of new documentary
Vancouver Courier, June 12, 2014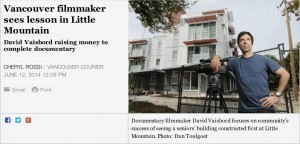 Vancouver Filmmaker sees Lesson in Little Mountain
Globe and Mail Friday June 6, 2014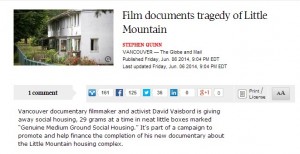 Film documents tragedy of Little Mountain
CBC Radio's On the Coast, June 5, 2014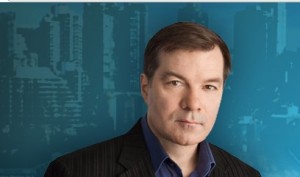 Interview with Stephen Quinn
CKNW The Shift, June 4, 2014
Interview with Fiona Forbes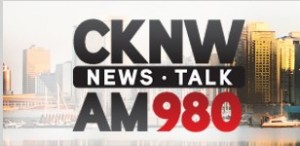 Conversations with Courage by Michael Cox (Podcast – 23 minutes) May 17, 2014
Persistence of Vision: the Documentary Filmmaker: Making documentaries takes stamina, determination, passion, and consumes years of a filmmaker's life.  For over six years…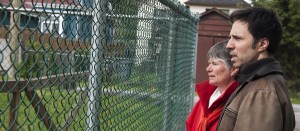 The Province, Wednesday Oct 24, 2012.
ONE LAST SHOT FOR 'VILLAGE' – 24 Oct 2012 Doc maker teams with rapper Red1 to tell story of Little Mountain housing
The Province, Wednesday Oct 24, 2012.
Saving images of the past On screen – 24 Oct 2012 – Doc maker screens shorts in big to save last Little Mountain unit
The Mainlander, Thursday Oct. 25, 2012.
Tenants win fight against BC Housing: Government cancels eviction notices at Little Mountain.
The Globe and Mail, Thursday Oct. 25, 2012.
Last-minute deal averts eviction for Little Mountain social-housing holdouts.
The Vancouver Courier, Thursday Oct 25, 2012.
Vancouver filmmaker focuses lens on Little Mountain.
The Georgia Straight, Thursday Oct 25, 2012.
Little Mountain resident no longer facing eviction pleased with deal to fast-track social housing.
The Vancouver Sun, Friday Oct 26, 2012.
Vancouver Documentaries probe Little Mountain Evictions.
The Vancouver Sun, Friday Oct 26, 2012.
Social Housing Deal Spares Families.
Diane Farris Gallery Blog, May 15, 2012
David Vaisbord – 2012 Recipient of the Farris Award for Art and Social Media
Follow The Little Mountain Project on FACEBOOK:
https://www.facebook.com/david.vaisbord
https://www.facebook.com/LittleMountainFilm
Follow The Little Mountain Project on TWITTER:
https://twitter.com/davidvaisbord